Exeter, NH Roofing Contractor
J. Carnes and Son Roofing proudly serving Exeter, NH
Our local roofing company proudly offers a wide variety of roofing services in Exeter, NH. The J. Carnes and Son Roofing team has been working together for 5+ years, led by the owner, Jason Carnes. Our crew is consistently able to increase our experience and our industry knowledge through consistency and job training.  This dedication to continual growth and customer satisfaction has merited recognition from two of the most trusted major manufacturers in the country: GAF and Owens Corning.
Residential & Commercial Roofing Services in Exeter, NH
Whether you are looking for asphalt shingle replacement or a low slope roof installation, the J. Carnes and Son Roofing company has your needs covered.  We can install a new, complete roofing system on condominiums, shopping malls, and deluxe luxury homes, as well as simple New England cottages.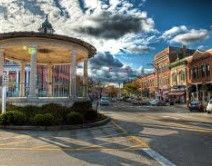 Quality Craftsmanship & Customer Service in Exeter, NH
Since your roof is compiled of more than just shingles, our team pays attention to the overall integration of the entire roofing system: from the decking to the ventilation and flashing. We always reference local building codes and ordinances and take measures to protect your property (lawn ornaments, landscaping, outdoor furniture, etc.) from sustaining damage during the construction process. After a final cleanup at the end – the only sign that we were on your property is your beautiful new roof!
J. Carnes and Son Roofing has made a point to always go the extra mile to deliver outstanding results to our clients.  When you contact our company with your roofing needs, you will receive courteous, helpful service from a local company.
To schedule your free estimate and project proposal, contact our team via the red button below.